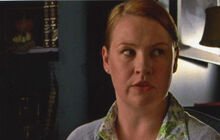 Audrey Wasilewski plays Yvette LaJimodiere, the Tylers' housekeeper, who we meet in Episode 5, "Crime Dog," as she is being deported to her native Canada. Unbeknownst to the Tylers, Yvette has been an illegal alien for the past twenty years, and Jaye and Aaron will take a trip across the border in an attempt to bring her home. Also unbeknownst to the Tylers, her name isn't really Yvette LaJimodiere... It's Cindy Bradley! Cindy ran away from her parents' home when she was just out of high school because they were distant and unaffectionate. She was closer with their housekeeper, who is also called Yvette, than she was with her parents. After she came to America, she found employment with the Tyler family.
Episode 5, "Crime Dog"
Ad blocker interference detected!
Wikia is a free-to-use site that makes money from advertising. We have a modified experience for viewers using ad blockers

Wikia is not accessible if you've made further modifications. Remove the custom ad blocker rule(s) and the page will load as expected.