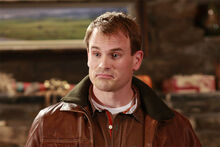 Gabriel Hogan plays Thomas, the "cute EPS guy." Thomas is featured mainly in Episode 1, "Wax Lion," in which he attempts to date Sharon and Sharon attempts to date Thomas's ex-wife, Beth.
Episode 1, "Wax Lion"
Episode 2, "Pink Flamingos"
Ad blocker interference detected!
Wikia is a free-to-use site that makes money from advertising. We have a modified experience for viewers using ad blockers

Wikia is not accessible if you've made further modifications. Remove the custom ad blocker rule(s) and the page will load as expected.