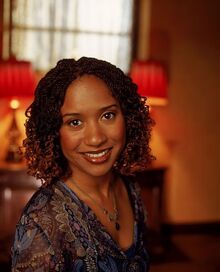 Tracie Thoms plays Mahandra McGinty, who's been Jaye's BFF since they were wee kiddies. Mahandra works as a waitress at The Barrel, and has a close, familial relationship with the entire Tyler family, which becomes somewhat awkward for her later on in the season when she and Aaron become secret boyfriend and girlfriend. Mahandra spends the entire series unaware of Jaye's situation with the muses, though Jaye continuously drops very frank, offhand comments to her about what is happening. Mahandra always thinks that Jaye is joking and gets irritated with her for it. Kerry Washington was originally cast as Mahandra, but was unable to continue shooting past the pilot.
Ad blocker interference detected!
Wikia is a free-to-use site that makes money from advertising. We have a modified experience for viewers using ad blockers

Wikia is not accessible if you've made further modifications. Remove the custom ad blocker rule(s) and the page will load as expected.