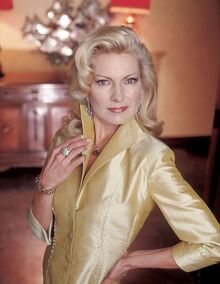 Diana Scarwid plays Karen Tyler, wife to Darrin and mother to Sharon, Aaron, and Jaye. Karen is a popular and successful author of several bestselling travelogues. Karen is deeply devoted to her family, though her concern often manifests itself as nosiness or meddling. She is worried about her youngest, Jaye, who, like Darrin, she feels is not striving for her potential. This causes her to pay more attention to Jaye's personal life than Jaye would like, putting a good deal of stress on their relationship. Though the two of them spend a good deal of time bickering, it becomes evident that Jaye and Karen share a deep and abiding love for each other.
Ad blocker interference detected!
Wikia is a free-to-use site that makes money from advertising. We have a modified experience for viewers using ad blockers

Wikia is not accessible if you've made further modifications. Remove the custom ad blocker rule(s) and the page will load as expected.