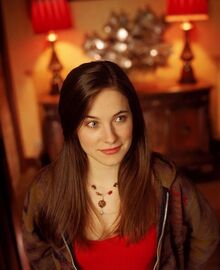 Caroline Dhavernas stars as Jaye Tyler, a 24 year-old recent graduate of Brown University. Jaye lives in a trailer park in Niagra Falls, where she works part-time at Wonderfalls, a local gift emporium. She spends a large chunk of time avoiding her loving, albeit overbearing, parents, and she does this by hanging out at a local bar, The Barrell. Jaye's mundane and predictable life takes a turn for the extraordinary when she begins to be visited by various "muses," which take the form of everyday objects with animal faces. Jaye's goal in life of maintaining a detatched disdainfulness from the world is threatened when these muses begin to deliver her with various ultimata. 
Jaye has an older sister, Sharon (Katie Finneran ), who is a successful and ambitious immigration attorney, and an older brother Aaron (Lee Pace ), who is working on a PhD in Comparative Religion. Their mother is Karen (Diana Scarwid ), a successful best-selling author; and father is
Darrin (William Sadler ), a well-known and highly-respected surgeon. Jaye's family and her interactions with them make up a fair amount of the show's plot.
Mahandra McGinty (Tracie Thoms ) is Jaye's best friend. The two have been friends since grade school, and Mahandra works at Jaye's watering-hole-of-choice, The Barrell. Also employed at The Barrell is bartender Eric Gotts (Tyron Leitso ), who manages to appeal to Jaye's somewhat prickly soft side.