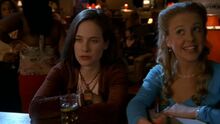 Chelan Simmons plays Gretchen Speck-Horowitz, one of Jaye's former high school classmates, and not someone with whom she had a friendly relationship as a teenager. Gretchen joins the cast of Wonderfalls primarily in Episode 2, "Pink Flamingos," when she goes overboard while trying to get Jaye involved in their 6 ½ year high school reunion. From there, things between Gretchen and Jaye only go downhill.
Gretchen makes an appearance in the Hannibal episode, "Amuse-Bouche". She is now divorced and has diabetes.
Appearances
Edit
Episode 1, "Wax Lion"
Episode 2, "Pink Flamingos"
Hannibal, "Amuse-Bouche"